Mission Macedonian Call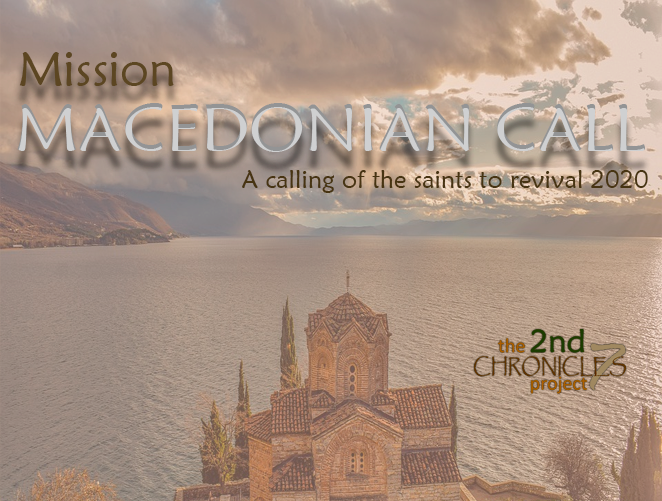 The Macedonian call referred to a very pivotal moment in Christianity, when God interrupted the plans of the Apostle Paul to spread the gospel, and instead caused a major widespread by going to Macedonia. God used dreams, prepared other players in the script, manipulated circumstances and culminated it all into one big major dynamic BOOM that changed the face and the effect of the church of God.
Please read the account here: The Macedonian Call
During the course of mankind, God would continually use this same method to bring about a complete turning point that would achieve major results in Christendom. These turning points or pivotal moments were always marked with a revival. Revivals usually are a sign that radically declared that God had accomplished a major breakthrough that either moves our focus from one direction to another, or cause a major awakening to something many was blinded from seeing. or, to move, evolve, or to upgrade the body of Christ from an older era into a new era.
We believe all three reasons to be true of our current Mission, the Macedonian Call. We believe that today, God is:
Moving our focus away from man, ourselves, our leaders, and back to God
Causing us to be awakened to the plans of the enemy to deceive us and take us down
Upgrading the body of Christ to evolve into the new era/age of technology to preach the gospel
We believe God has lost many of us as Christians to sleep, slumber, and blindness. The enemy is out and about like a roaring lion and devouring the earth, and the church of God is nowhere in sight. The enemy has been marking territories all over the globe and we as a church have not responded and have become boxed in because we have no knowledge and relationship with God and we perish. We believe there needs to be a major awakening of the saints, a call to arms, and to learn the new spiritual weapons of the new warfare.
We believe our first and will always be our base Mission, to be sounding the Macedonian Call to wake up the believers to cause and effect the revival the world needs at this time. Henceforth, our mission at hand under the 2C7P is:
Mission MACEDONIAN CALL.